How to Dress in Summer: Your Guide to Summer Clothing
4 min read
So in summer, less clothes is usually more. You generally don't want to layer up too much — two light-weight layers at most — as this will only increase the heat. But that doesn't mean you can't look sharp.
Same as during any other time of year, getting the fit right, keeping it simple and making smart color combinations will get you very far.
Let's discuss some specific clothes and how to make them work in summer heat.
1. Shorts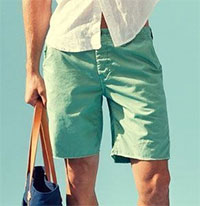 Probably the one garment most associated with summer are shorts.
When the sun starts scorching, everybody's quick to grab a pair of shorts, but few known how to pull them off with style.
So what you should remember about shorts, and this should be obvious, is that they are casual by nature. There is no formal occasion in which shorts are acceptable. Not a one. These aren't office-appropriate garments, guys!
Also, avoid any shorts that have cargo pockets. The goal is to have nice clean lines, which makes cargo-shorts the opposite of stylish. You always want your garments to closely follow the lines of your body, and shorts are no exception.
Shorts should be flat front and should hit you right above the knee.
You can certainly keep your color choices simple with shorts — and it's wise to have at least one or two neutral options — but shorts give you a great opportunity to have some fun with color. They're so casual, you can easily get away with louder colors and even prints.
If you are going to wear loud shorts though, wear it with something neutral to balance the outfit.
2. T-Shirts, Henleys and Polos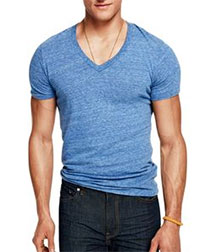 T-shirts get a bad rep sometimes. I often get e-mails from guys telling me they want to move on from T-shirts and jeans, but neither of these garments are unstylish by nature — in fact, they're both men's wardrobe essentials. Many guys simply choose to wrong type or the wrong size.
So first off, I would tell you to avoid graphic tees and go for either a solid or striped piece. If you absolutely must go for a graphic tee, make sure the graphic is relatively subtle and not too in-your-face. Oh, and on no occasions should you ever wear a "funny" tee!
You can go for a crew-neck or a V-neck. I personally prefer the latter, but it's a matter of taste. Another great option are Henleys (a.k.a. Y-necks).
Oh, and let's not forget about polo-shirts. I think every guy should have a few polo-shirts in their wardrobe. They're as comfortable as simple tees, but they have a collar, and a collar always adds a level of style to a garment.
Really, you ought to have a couple of variations of T-shirts. Don't stick to one type and get it in a bunch of different colors. Mix it up a bit!
3. Shirts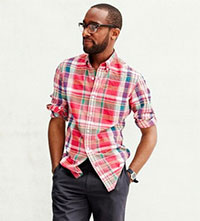 Of course, you can (and should) also throw some shirts in your summer style mix.
Shirts are a stylish step up from plain T-shirts. They're just classier. I don't think you always have to wear a shirt, but definitely when you want to make a good impression on someone.
As discussed earlier, make sure your shirts are made from the right fabrics. Many shirts are made from less-breathable fabrics and they're not as comfortable when the temperature starts to boil. At least find one or two linen shirts to add to your wardrobe.
Having a few neutrals is always a good idea, but remember that it's summer, which means time to have a bit of fun with colors and patterns.
4. Pants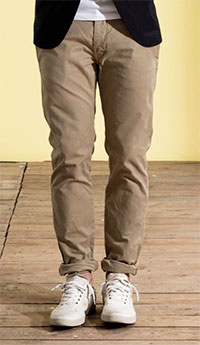 It might seem counter intuitive, but often times pants can keep you cooler than shorts. Pants have the added benefit of keeping your skin shielded from the direct sunlight. With the right kinds of fabrics, you will sweat less and actually be more comfortable wearing pants than shorts.
Most of your pants should be in neutral colors, as they'll go better with your colorful summer tees and shirts. Of course, you can certainly add some colored pants to your wardrobe as well. (In the case of wearing those, keep the rest of your outfit neutral, as colored pants make enough of a statement on their own.)
You want to stick mostly to lighter colors in summer. Darker colors are fine, if they're in a nice, breathable fabric, but overall, lighter colors will always keep you cooler when the sun is blazing.
Lastly, you might wear your pants with a canvas belt instead of a leather one. You might've seen them in stores before and wonder when you'd ever wear them. Well, summer is the answer. Canvas belts make for a great casual piece and also look great with some canvas shoes.
5. Footwear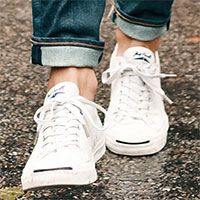 So, in summer you have lots and lots of shoe options, especially when it comes to casual wear.
And while I generally recommend guys to wear leather shoes, summer is the one season where I'd recommend otherwise. Leather is okay to wear in summer, mind you, but suede or canvas shoes will keep you much cooler.
Some examples of great summer shoes (ranked somewhat from casual to formal):
Espadrilles
Canvas sneakers / Plimsolls
Boat shoes
Driving shoes
Loafers (Especially suede)
Suede brogues or derbies